The city is flooded with majestic forts, palaces, and temples. You can spend a day exploring the expansive Shaniwar Wada Fort or go for an early morning trek to Sinhagad. Then, in Appu Ghar amusement park, you can have a fun time with your family and kids. It's among the best places to visit in Pune, near Pimpri.
So, check this list of places to visit in Pune and nearby and enjoy your holiday to its fullest.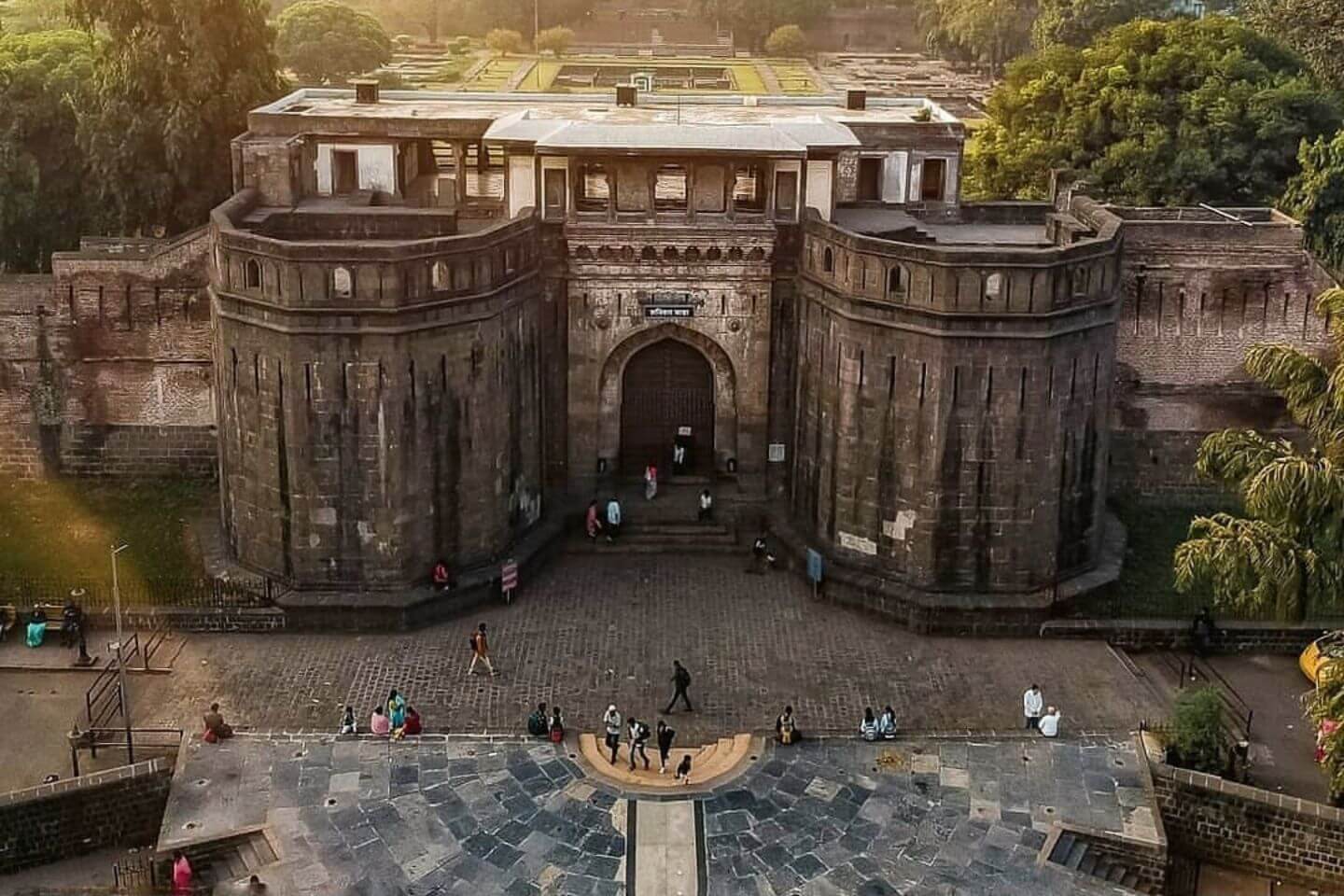 Shaniwar Wada, the seat of the Maratha empire from 1730 to 1818, is in the heart of Pune. It was built by Bajirao Peshwa as a residence for the Peshwas. And it displays the architectural prowess of the Maratha artisans.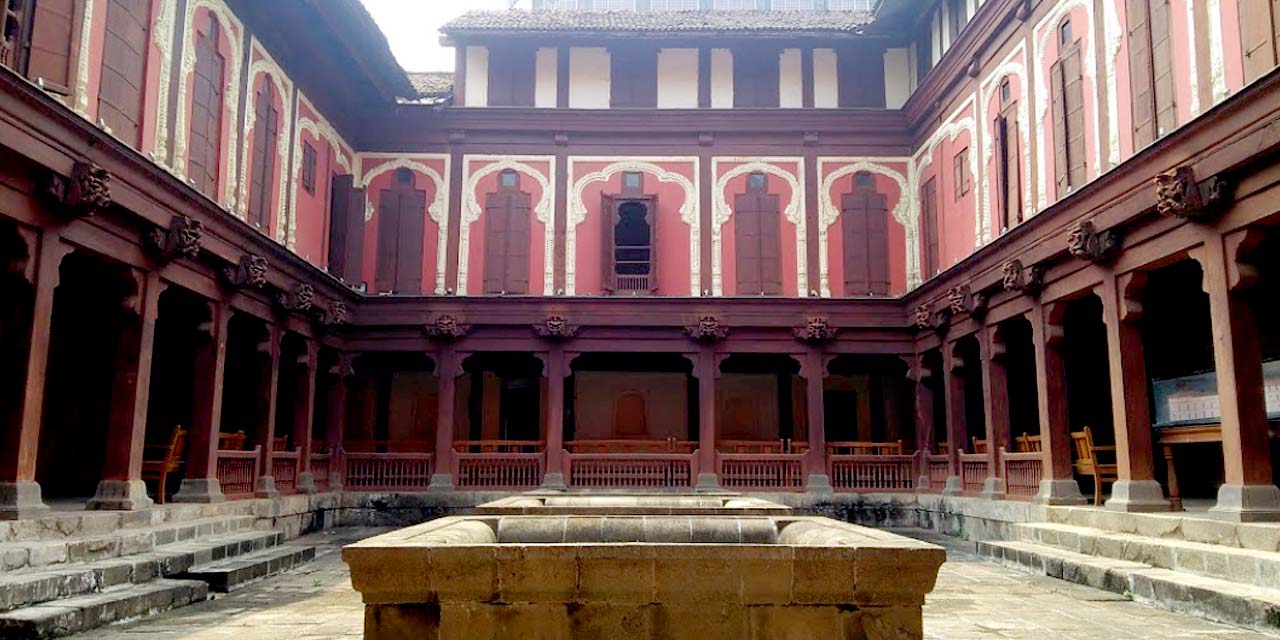 Vishrambaug Wada is a three-storeyed mansion built by Peshwa Bajirao II. It has captivating Maratha-style stone architecture symbolizing the historical richness of the era.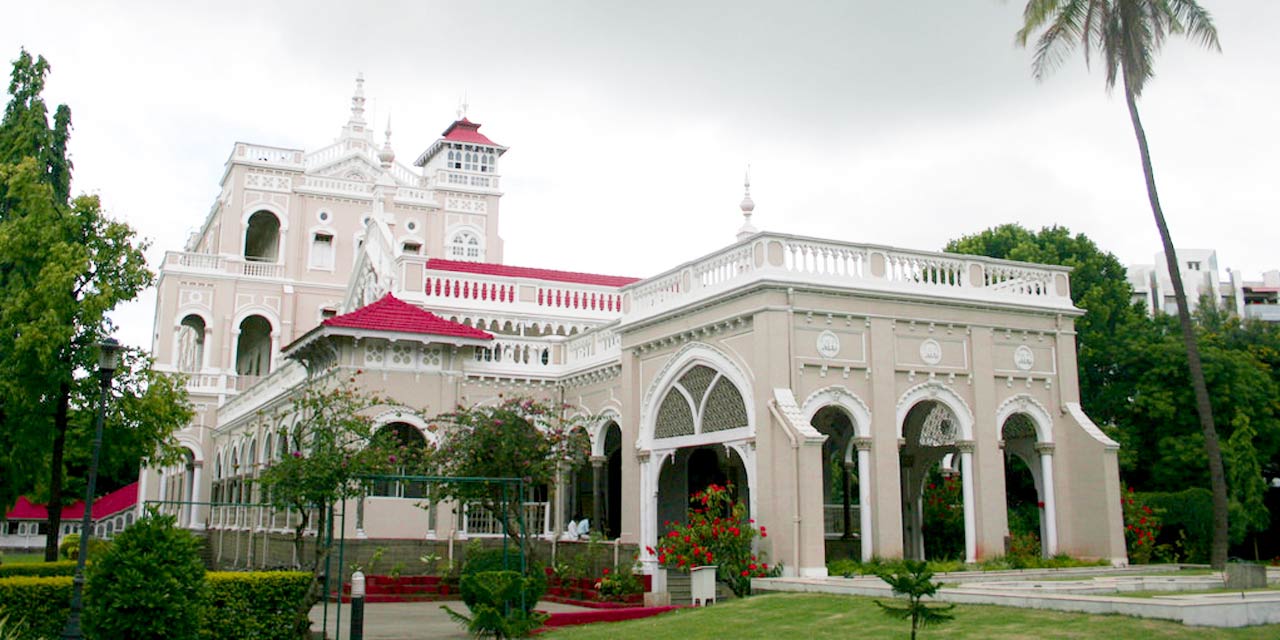 Aga Khan Palace is a beautiful palace built amidst sprawling gardens. It was built by Sultan Muhammad Shah Aga Khan III in the 19th century. He did so to generate employment for the poor who were badly hit by a famine.
National War Memorial (also called Southern Command Museum) is a museum constructed in memory of Indian soldiers who lost their lives in different post-independence wars.
Osho Ashram is a meditation resort on a lush green campus. It's one of the top places to visit in Pune for nature lovers. It's known for its calm and surreal surroundings which provide the much-needed break from the hustle-bustle of city life.
Shinde Chhatri is a memorial building dedicated to Mahadji Shinde. He was the commander-in-chief of the Maratha army, from 1760 to 1780.
Mahadji Shinde played a significant role in resurrecting Maratha power, and he got many victories, regaining the lost glory of the empire. And Shinde Chhatri, his cremation ground, is a part of the city's heritage.
Vetal Tekdi is a hillock surrounding the city of Pune. People come here daily for running and jogging, hiking, and birdwatching. It has a temple of Vetala on the hilltop from which the place derives its name.
Dagdusheth Halwai Ganapati Temple is a temple dedicated to Lord Ganapati (also called Ganesha). It was built in the 19th century by Dagdusheth Halwai, a trader and famous sweet maker in the region
.
Saras Baug is a beautiful landmark in Pune city. This lovely garden houses lush, manicured lawns, a pond with fountains and a historic temple dedicated to Lord Ganesha.
David Synagogue is a red building, built in the English Gothic-revival style. Henry Stein Clair Wilkins designed it, to be constructed as a church. And it has an obelisk right next to the entrance, which has a clock hung on it.
Bund Garden is a popular picnic spot and among the most beautiful gardens in the city. It's a local favourite among joggers and others who love spending time outdoors. It's also the go-to place for those who are looking for some calm after a hectic day.
Raja Dinkar Kelkar Museum is an anthology of Indian artefacts near the Dagdusheth Temple. It's a one-man collection of Dr. D. G. Kelkar, of over 20,000 artefacts, making it one of the best places to visit near Dagdusheth Ganpati Pune.
Chaturshringi Temple is a revered Hindu temple established on the slope of a hillock near Pune University. And devotees have been coming here for ages. The complex also has temples of Goddess Durga and Lord Ganesh.
The name is derived from the word "Chattu", meaning Mountain with four peaks. Chaturshringi represents faith and power.
Lal Mahal is another place of historical importance in Pune. It's close to Shaniwar Wada, and it has been the childhood home for Chhatrapati Shivaji Maharaj. He stayed here for several years before he captured his first fort – Tornagad.
Rajiv Gandhi Zoological Park is on the outskirts of the city, and it has over 300 animals in their natural habitat. It also has a wildlife research centre, which serves as an animal orphanage, rescue centre and care centre.
The place is divided into three sections: the zoo, a lake, and a snake park. And it's popular among nature lovers and wildlife enthusiasts.
Katraj Snake Park is a part of Rajiv Gandhi Zoological Park. And it's one of the top places to visit in Katraj Pune. It's famed for its diverse pit of snakes and reptiles.
Khadakwasla Lake and Dam is a picnic spot on the way to Sinhagad Fort. It attracts nature lovers and adventure enthusiasts alike. And hikers and cyclists use this dam site as a place to rest.
Peacock Bay is a part of Khadakwasla Lake and Dam. It's on the lake's northeastern part, on the confluence of River Ambi and River Mose. And it got its name because of the large number of peacocks found in the region. Bird watchers love coming to Peacock Bay.
Pataleshwar Cave Temple is dedicated to Lord Shiva (also called Lord Pataleshwar). The temple, although left incomplete, is still an architectural beauty. And it's visited by tourists as well as devotees of Lord Shiva.
The temple was built in the 8th century. And as you enter it, you'll notice the enormous and finely crafted pillars of the temple. It has three sanctums, the central one of which is of Lord Shiva. The Shivalinga is installed here. A statue of Lord Shiva's carrier Nandi bull is right in front of the sanctum.
Bhuleshwar Temple is another temple dedicated to Lord Shiva. And it attracts devotees from many neighboring areas and other places in the state. It's also frequented by historians, researchers, and architectural enthusiasts.
This temple was built during the 13th century. And it's known for its architecture.
Appu Ghar boasts of being the very first amusement park in Pune city. And it's one of the best places to visit in Pune with family and kids. It's known as an eco-friendly entertainment arena which can entertain all age groups.
This amusement park offers not just fun rides but also a serene lake and hilly terrains. And the vibrant environment alongside makes Appu Ghar the mini-Disneyland of Pune.