These are the places you need to look out for on your trip to Pune. We are here to help you find the best of the best in Pune! Scroll down and see why Pune won our heart straight away!
1. Keema Pav at Goodluck Cafe
Since generations, people of Pune are taking time out from their busy schedule to visit this place. The food served is hygienic and a definite win-win for the pocket. The place is situated in the vicinity of the Film Institute and hence has been the favorite of many stars like Dev Anand.
Where: 759/75, Goodluck Chowk, Deccan Gymkhana, Pune
Must-Try: Keema Pav, Irani Chai, Biryani
Timings: 7:30am – 11:30pm
Cost for two: INR 500
2. Sitafal Mastani at Sujata Mastani
Wondering what a mastani is? It is a delicious combination of milk and ice cream with a good amount of other mouth-watering garnishes. The Pune special mastani comes loaded with dry fruits and Kesar. You can try the variety of flavours which include nuts, cherry, whipped cream, chocolate, Kesar and more.
Where: Multiple outlets around the city
Must-Try: Mango Ice Cream, Sitafal Mastani
Timings: 11am – 11:30pm
Cost for two: INR 200
3. Mawa Cake at Kayani Bakery
The bakery is so loved by people that you won't ever find this place non-crowded! Their freshly made cakes are a die for. The tiny shop opens around 3 or 4 in the evening and is rushed with people till the shutter goes down.
Where: 6, Dr Coyaji Road, Hulshur, Camp, East Street, Pune
Must-Try: Mawa Cake, Shrewsberry Biscuit, Plum Cake
Timings: 7:30am – 1pm, 3:30pm – 8pm
Cost for two: INR 200
4. Mysore Masala Dosa at Vaishali
Vaishali- the famous SPDP centre! The Sev Puri Dahi Puri, lovingly named as SPDP by the people coming in here is widely known throughout the city. Everything that they serve here, from the morning Pav Bhajis to the toothsome Sabudana Vadas with the extraordinary coconut chutney is top-class. The dosas glistening with butter and aroma so rich that you won't be able to control drooling.
Where: 1218/1, FC Road, Pune
Must-Try: Mysore Masala Dosa, Bhel Puri, Tea
Timings: 7 am – 11 pm
Cost for two: INR 300
5. Maharashtrian Thali at Shabree
If you are looking for a nice spicy menu of Maharashtrian delicacy, then let me tell you that Shabree has the best food in Pune. Situated on the FC road, the restaurant serves authentic Maharashtrian food. The unlimited thali consists of a variety of yummy food items like Puran Poli, Masala Bhat, Aaluchi Bhaji, Kadi gole, Zunka, Dahi etc.
Where: Parichay Hotel, 1199/1A, FC Road, Pune
Must-Try: Maharashtrian Thali
Timings: 11:30am – 3:30pm, 7:30pm – 11:30pm
Cost for two: INR 700
6. Cheesecake at German Bakery
German Bakery has established its place amidst huge lavish bungalows and velvety green trees. Easy to spot, people of Pune visit this place with their gang of friends to have a cherished time. You can sit here for hours chatting and having a quality time with nobody to bother you.
Where: Multiple Outlets in Pune
Must-Try: Cheesecake, Coffee
Timings: 8 am – 12 midnight
Cost for two: INR 1000
7. Puneri Misal Pav at Bedekar Misal
Misal is made using semi curried lentils and is garnished with crunchy fries. The small outlet is the single biggest branch in all over Maharashtra, serves the best Misal Pav and is crowded from morning to night. Misal Pav is anyway the best food in Pune! Misal served with soft buns are a must-try if you want to enjoy the original Misal Pav of Maharashtra. And there is no better place than Bedekar Tea Stall to try this amazing dish
Where: Munjabacha Bol, Near Patrya Maruti Temple, Narayan Peth, Sadashiv Peth, Pune
Must-Try: Puneri Misal Pav, Kanda Bhaji
Timings: 8 am – 7 pm
Cost for two: INR 100
8. Aloo Parantha at Chaitanya Paranthas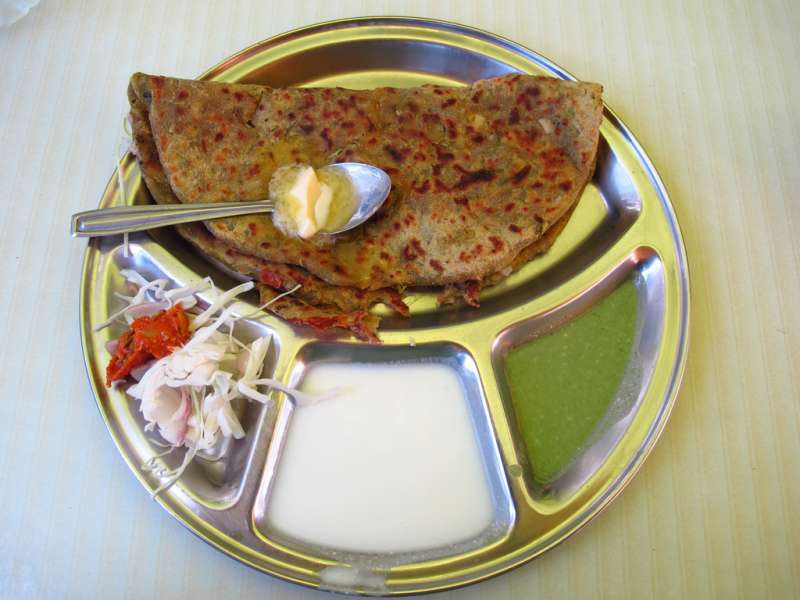 Established years ago, and rising to fame for its delicious aloo paratha, Chaitanya has redecorated their menu to add varieties of assorted parathas. But the aloo paratha is still crowd's favourite till this day. The authentic taste richly smeared butter and huge filling of mashed potato.
Where: Multiple Outlets in Pune
Must-Try: Aloo Parantha, Patiala Lassi
Timings: 12:30pm – 11pm
Cost for two: INR 250
9. Cheese Omellete at Vohuman Cafe
Vohuman is a favorite for breakfast in Pune. The fried eggs are delicious and so is the special egg bhurji with just the right number of spices mixed. Cheese omelets are something you cannot find anywhere else. Vohuman Cafe has a name to live up to and it has been doing that for years now.
Where: Shop No 13, Millennium Star, Near Ruby Hall, Dhole Patil Road, Pune
Must-Try: Bun Maskas, Tea, Cheese Omellete
Timings: 6am – 7pm
Cost for two: INR 200
10. Jumbo Vada Pav at Garden Vada Pav Centre
The best Vada pav that you can ever eat is in this place. Garden Vada Pav Centre wins without trouble. They serve delicious and fresh varieties of dishes like cheese Vada pav, masala Vada pav, and the classic Mumbai Vada pav.
Where: Multiple outlets around the city
Must-Try: Crispy Vada Pav, Jumbo Vada Pavs, Masala Chach
Timings: 9 am – 9 pm
Cost for two: INR 100